Nagaur Fort is the best fort in Rajasthan
Posted On April 3rd, 2023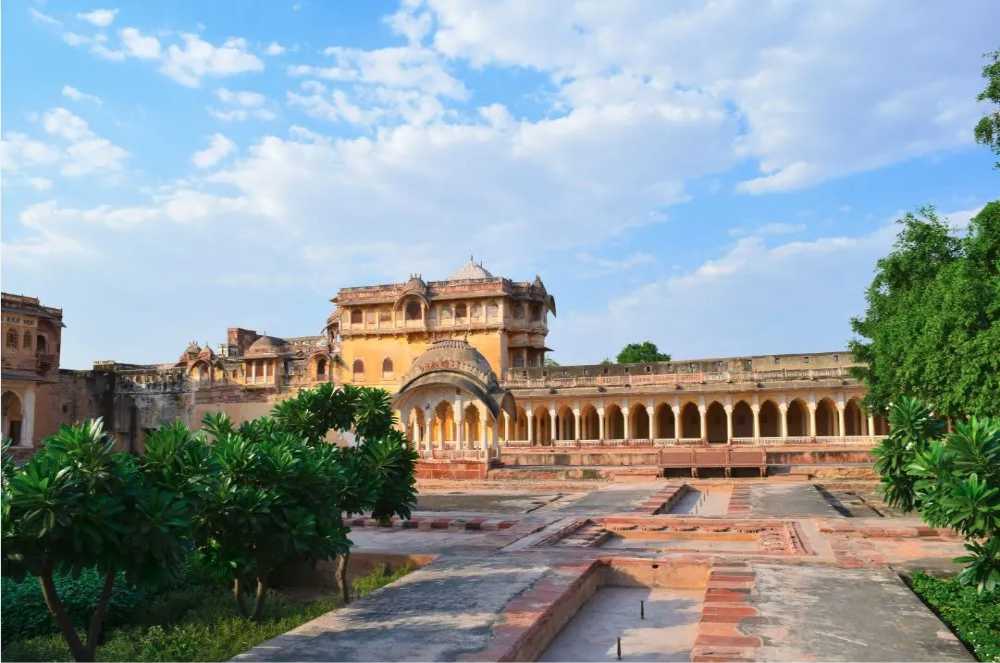 Nagaur Fort is one of the most important historical places in Rajasthan. It is situated in the Rajasthani city of Nagaur. This location's distinct air of Rajasthani attractiveness draws people from all over the world. People come to see the historical legacy at its finest. It's a great place for all history lovers.
Nagaur Fort, also known as Ahhichatragarh Fort, was constructed by Mughal King Shahjahan and Akbar. Mughal structures, such as Mughal Gardens and Mosques, are still in fine shape today.
It is reported that the Nagaur fort was established in the second century by a monarch of the Nag dynasty and subsequently renovated in the early 12th century. This fort has seen various fights and has been remodelled several times. It is an amazing example of Rajput-Mughal architecture as one of the early Mughal fortresses in North India. The fort received substantial repairs in 2007 and is now complete with fountains and gardens. It also functions as a platform for a Sufi music event.
Inside the Fort, there are a variety of palaces and other structures, many of which are in ruins and some of which are in fine shape.
Hadi Rani Mahal, Bakhat Singh Palace, Deepak Mahal, Akbari Mahal, and Amar Singh Mahal are among the notable structures within the fort.
The speciality of this fort is that there are no effects of the cannon balls fired here.
How to Reach
By Road: Nagaur Fort is located in the city centre of Nagaur. It is easy to get here by Tempo Traveller or Rental Car.
By Rail: Nagaur Fort is well connected to major cities train stations like as Delhi, Agra, Mumbai, Chennai, Bikaner, Pali, Jaipur, and Ahmedabad via the nearby Nagaur Railway station.
By Air: The nearest airport (137 km) to Nagaur Fort is Jodhpur, which has frequent domestic flights to Delhi and Mumbai.
Things to do
The fort is well-known for its lofty walls and expansive campus. Inside this fort, you may enjoy a fun family time. This landmark allows visitors to view old palaces, a colourful fountain show, a beautiful green garden, and iconic temples in a lovely setting. Other sites where one may immerse themselves in Rajasthan's rich legacy are Akbari Mahal, Deepak Mahal, Hadi Rani Mahal, and Amar Singh Mahal. Make a point of visiting all of these locations during your stay to Nagaur Fort.
This fort is accessible by three main entry gates. The initial entrance was constructed for historical reasons, to protect the adversaries. "Beech ka pol" and "Kacheri pol" are the names of the second and third entrances, respectively.
Despite its heinous past, the Bhakt Singh Palace is well worth a visit. It was built by Bhakt Singh, who executed his own father on the instructions of his brother in exchange for the city of Nagaur. Thus, he created the groundwork for this magnificent castle within the boundaries of the primeval fort in order to reside happily.
FAQ's
What is the best time to visit Nagaur Fort?
The best time to visit the fort is during monsoons when it's not too cold nor too hot.
What is the entry fee of the fort?
For Indian citizens, the fee is Rs. 15 per person.and Rs. 50 per person for foreign pe
Timing of Nagaur Fort?
The fort is open every day of the week. The hours are 8:30 a.m. to 1:00 p.m. and 2:30 p.m. to 5:00 p.m.
---
---
STAFF'S PICKS &
Related Posts