A Refreshing Road Trip to Rishikesh
Posted On October 21st, 2022
Road Trip to Rishikesh is not only one of the most admired and sought after religious destinations in India but also a holy grail for the adrenaline junkies. It is a hub for Yoga and Meditation centers. You can find various sacred historic temples in Rishikesh.
However, this famous tourist spot has earned the title of the Adventure Capital of India for being the biggest adventure destination in the country. A road trip to Rishikesh gives you a refreshing break from your usual monotonous life.
Places to Visit in Rishikesh
There are various astounding ancient temples and the beautiful symmetric bridges that are the prime highlights of this beautiful tourist destination. One of the top tourist attractions in Rishikesh is the Laxman Jhoola. It is a 450 feet suspension bridge hanging 70 feet over the river. You can also visit the nearby Tera Manzil temple. Neelkanth Manahdeva temple is a famed shrine in Rishikesh dedicated to Lord Shiva.
You cannot leave Rishikesh without visiting the Beatles Ashram, named after the popular music band that visited the place to learn transcendental meditation. It is a part of Rajaji National Park, a perfect place for an enthralling Jeep Safari experience.
The park is located amidst Shivalik ranges and represents the oldest ecosystem of the country. Here you can spot a plethora of endangered animals from the Sloth Bear to the Bengal Tiger. Wildlife enthusiasts often visit Rajaji National Park to locate exclusive varieties of flora and fauna. A stay in the cottage at Rajaji National Park will be equally enthralling.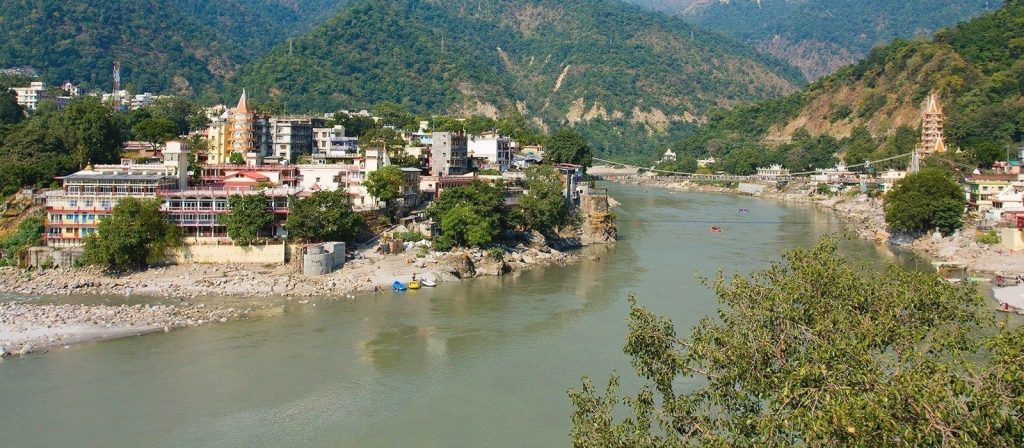 Another soothing place for nature lovers in Rishikesh is the Patna falls. The trek to the waterfall is slippery and challenging, but alluring.
You will notice various freshwater streams flowing through the hills. The natural allure, the relaxing sound of gushing water, and the refreshing breeze touching your face, all combine to create the most rejuvenating ambiance at the Patna falls.
If you have a predilection for Yoga and Meditation, then a trip to Swarg Ashram will be a perfect place to seek some solitude and wisdom.
You can hike here and take in the surreal Ganga aarti in the evening at Triveni Ghat. A historical Ayurvedic center for travellers is called Parmarth Niketan. Always look around the neighborhood markets for handmade items, antiquated coins, and intriguing graffiti.
Adventure Sports in Rishikesh
If you are up for some adventure, then you must pay a visit to Kaudiyala. It is the most-visited viewpoint near Rishikesh open all days of the year. Surrounded by dense hill forests, the place is home to many species of flora and fauna, which indeed make it zen for nature lovers as well.
Adventure seekers can enjoy various activities at Kaudiyala, including camping, ziplining, hiking, and the most enthralling white water rafting. Get drenched in chilling water and feel the breeze on your face. Are you ready for the breathtaking experience of a lifetime?
White water rafting or river rafting is indeed amongst the most popular adventure activities that entice tourists to Rishikesh from distant corners of the country. The thrill of river rafting over turbulent rapids is incomparable. You can enjoy the sport at any time of the year except during monsoons and winter seasons.
Due to the ongoing lockdown and widespread pandemic, the activity was temporarily suspended. However, Uttarakhand Tourism has just recently resumed offering river rafting to the general public in Rishikesh. So if you want to enjoy the rush of river rafting, now is the time to pack your bags and make a reservation. Spend some time indulging in delectable meals and beverages while having a bonfire and camping by the river at dusk with your family, friends, and kin.
If you love hiking, follow the trail to the Kunjapuri Temple. Located 20 km from Rishikesh, the temple is nestled amidst the mountains 1650 m from sea level. Once you reach the hilltop, you can enjoy a panoramic view of the city. Not to mention a breathtaking view of the elevated sunset.
Experiencing the city life at Rishikesh is equally amusing. Some visitors also play music and volunteer for dancing at the dining cafés. The cafes are often brimming with locals and foreigners alike.
A Comfortable Ride For An Unforgettable Road Trip to Rishikesh
Are you also planning a weekend Road Trip to Rishikesh? How about booking a ride that is safe, comfortable, and secure? Visit our website to view available tour packages to Rishikesh with the most affordable and super comfy rental rides.
Considering the prevalent pandemic, we take all the necessary precautions and follow cleanliness guidelines. Therefore, you get a deeply sanitized well-maintained sedan for every trip.
We equip all our rental cars and tempo travellers with all basic amenities and medical supplies. You can pick a suitable ride from our grand fleet of luxury coaches and 9-12 seater Maharaja tempo travellers for a hassle-free commute and the most memorable road trip experience. Whether you need a sturdy ride for a family trip or Bleisure travel, our chauffeur-driven rental sedans and tempo travellers are ideal for all outstation trips.
FAQs
Q1) What is the best time to book a trip to Rishikesh?
Ans. Ideally, you should book a tour to Rishikesh between February to March and August to October. However, the weather in Rishikesh is generally pleasant throughout the year.
Q2) What adventure activities can I enjoy in Rishikesh?
Ans. You can enjoy cliff jumping, kayaking, rappelling, bungee jumping, flying fox, trekking, and white water rafting in Rishikesh.
Q3) Can I swim in the river Ganga in Rishikesh?
Ans. Yes. There are various spots in Rishikesh near the bank of river Ganga such as the Triveni Ghat, where you can take a dip in the holy water. However, tourists are advised not to venture into deeper waters because of strong, unpredictable currents.
---
---
STAFF'S PICKS &
Related Posts