The Best 15 Tourist Attractions in Pondicherry
Posted On October 21st, 2022
The Best 15 Tourist Attractions in Pondicherry, Known today as Puducherry, Pondicherry is among India's best tourist destinations. Its serenity and picturesque beauty attract tourists from all parts of India and the world. This Union Territory is situated on the Coromandel Coast of Bay of Bengal, about 170km away from Chennai.
At one time, it was India's largest French colony and still bears strains of French customs, traditions and culture. There are several Pondicherry sightseeing places, the most popular of which are:
1. Auroville
This is one of the top attractions in Pondicherry. This is a strategically planned township, built on an experimental basis that aims to develop India by means of peaceful co-existence by ignoring creed, nationalities, culture and politics. Situated close to Pondicherry, it is often called the 'City of Dawn' and was named after Sri Aurobindo.
Through this spiritual centre, tourists can learn a lot about India and its spiritual nature. The centre houses a large architectural area which holds 56 kg gold on its dome. It listens in the sun and is said to bring peace to the area. It is one point of The Best 15 Tourist Attractions in Pondicherry.
2. Pondicherry
This is the most highly populated city of the Union Territory of Puducherry. It has a population of 7,45,600 and covers an area of 492 sq km. Around it is Tamil Nadu state, with which it has cultural commonalities. In earlier times, it was home to the Dutch, French and British colonies, thus it is unique in a country like India. For short, it is called Pondy.
You may be interested in booking Shimla-Manali Tour
A famous tourist spot here is the Aurobindo Ashram where Sri Aurobindo spoke to the people on living in a peaceful community. Members of this ashram engage in a series of activities such as farming, gardening and small industries. Here, the Auroville Information Center and Matrimandir are important tourist spots, while Raj Niwas, the residence of the Lieutenant Governor of Pondicherry are all must-see places. This is one of the important point of The Best 15 Tourist Attractions in Pondicherry.
Apart from all the sightseeing, another aspect of Pondicherry is its amazing shopping. You can buy traditional and modern artefacts, jewellery, miniature paintings and furniture made of cane and rattan.
3. The Pondicherry Botanical Garden
This garden is a treat for the eyes. It is built in French architectural style and was first built in 1826 with an ornately designed garden. This garden is home to about 1500 varieties of exotic species of plants and trees, procured from all over the world. Every weekend there are musical fountain shows here.
4. The Pondicherry Museum
There are a variety of sculptures, architectural and cultural influences that mark the spirit of Pondicherry, so it's very necessary to visit this museum to get a flavour of this unique city. Art historians and culture buffs will love this museum. So, you must choose to visit The Best 15 Tourist Attractions in Pondicherry.
It contains relics of the Arikamedu Roman settlements, on the one hand, and on the other, it has stone and bronze features belonging to the Pallava and Chola dynasties of South India. It also has artefacts from Roman times and from Dravidian culture and literature. You can also find French diaries and artefacts in the Bharathidasan Museum, part of this museum.
Book Royal Rajasthan Tour with 12 Seater Luxury Tempo Traveller
5. Ousteri Lake
This Lake is a feast for the eyes. One of the most amazing and serene tourist spots here, tourists will admire it also for the boating done here. This is a freshwater lake and has been recognized as it is frequented by visitors for many reasons.
You can enjoy riding on a boat and the sunset while taking your coffee. This important freshwater lake is recognised as a wetland, and designated by the International Union for Conservation of Nature (IUCN) as being home to many migratory birds.
The Best 15 Tourist Attractions in Pondicherry
6. Chunnambar Boathouse
The River Chunnambar is popular for its wonderful backwaters which give tourists the chance to picnic here. You can enjoy a luxurious stay here and always remember having stayed in the midst of lush green Nature.
The boathouses here come equipped with a maximum of three rooms along with a sundeck, balcony and other facilities to enjoy the leisurely pace of the boathouse. If you are an outdoorsy person, you can also enjoy water sports on this river at the water sports centre here.
7. Serenity Beach
Located at Kottakuppam, about 7 km from Pondicherry Bus Stand, Serenity Beach is just the medicine you need for tranquillity in a busy world. Its golden sands, deep blue waters and beauty draw traveller to it. The sound of the waves and the gentle sun play their own magic on the minds and hearts of tourists here. You can stay in a resort here on the beach and enjoy it more. The Best 15 Tourist Attractions in Pondicherry.
This statue was erected in 1870 in honour of the French governor Dupleix who was in charge of Pondicherry till 1754. Situated in Goubert Avenue towards the end of Rock Beach, it is three metres tall and is made of rich granite. It is a rich symbol of the French power over Pondicherry.
The Best 15 Tourist Attractions in Pondicherry
9. Immaculate Conception Cathedral
This is a church known for its singular beauty. Called 'samba kovil', the Immaculate Conception Cathedral is one of Pondicherry's oldest tourist spots and bears testimony to the Portuguese type churches in Goa. It is known as the mother church for the Roman Catholic Archdiocese of Cuddalore and Pondicherry.
10. Paradise Beach
Beach lovers will love this one for its fantastic backwaters and glistening golden sands. The nearby mangrove forests are home to a lot of birds. This is the attraction for birdwatchers and photographers. On the beach, there are food shacks selling street food. Combine this with a lazy stroll, and you could end up with an unforgettable time here.
11. Varadaraj Perumal Temple
The Varadaraja Perumal Temple is a famous Vaishnavite temple, built using the Dravidian style of architecture. First built by the Chola kings, it was later enlarged by the Pandya dynasty. It is famous for its five-storied rajagopuram or entranceway and its arresting idol of Lord Vishnu that is evident in the sanctum sanctorum here. Entrance is open to all.
12. Manakula Vinayagar Temple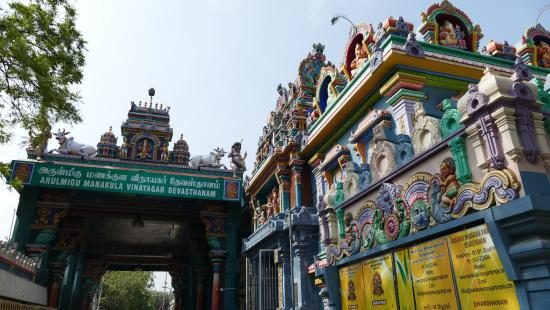 Situated in Pondicherry, the meaning of the name of this temple is 'sand around pond'. The reigning deity of this Hindu temple is Lord Ganesha. For this reason, Pondicherry is also seen as a pilgrim town. The ancient look of this temple and its notable architecture is a keen reminder of India's culture through the ages that stood the test of time even through the ups and downs of colonialism.
During Dupleix's rule, there were several attempts made to destroy this temple, but Hindu devotees always gave it enough protection and by the Maratha rulers threatening to attack Pondicherry. The Best 15 Tourist Attractions in Pondicherry.
It was constructed pre-1666 and has always been worshipped for its sheer beauty and the architectural wonder that it is. It is known by several names and depicts several types of the Lord Ganesha.
The temple is also known for a golden chariot, made by devotees' donations. It weighs 7.5 kg of gold and is valued at Rs. 35,00,000. It is taken out in a procession every Dussehra. This temple is also famous for Saint Thollaikkathu Siddhar who is said to have got enlightened at this temple and later sacrificed his body here.
13. Sri Karaneswara Nataraja Temple
Located on the Pudhukuppam beach, this temple is modelled on the famous Great Pyramids of Giza. The Sri Karaneswara Nataraja Temple is famous for being a Shiva temple. The temple complex offers three paths for pradakshina. The temple faces the north while its entrance faces south; done in accordance with the South Indian belief that Lord Shiva is the Teacher of the South.
14. Veerampattinam Beach
The largest coastal village in the Union Territory of Puducherry, Veerampattinam is situated between Cuddalore and Pondicherry. The famous Veerampattinam Beach has an amazingly long coastline and is one of the most beautiful places here. This little-known beach has golden sands and the air is absolutely pollution-free.
People come here to sunbathe or unwind from their daily tensions and routines. Fishermen can also be seen here drawing their huge boats and casting their nets far and wide. It's not uncommon to find tourists taking walks on this beach. The temple car festival is celebrated every year on this beach. The Best 15 Tourist Attractions in Pondicherry.
15. Mahatma Gandhi Statue
The Mahatma Gandhi statue, which is located on Beach Road in White Town next to the Jawaharlal Nehru statue, is revered by both tourists and history buffs. Eight granite pillars that were allegedly purchased from the Gingee Fort, which is located about 70 kilometres from Pondicherry, surround this statue. A garden surrounds it, and tourists go there all year long.
Conclusion
Many interesting tourist places in Pondicherry contribute to its spirit. This could understandably be a dilemma for tourists to choose which to see and which not to if they have very little time to spend here. But now that you know that these wonders all exist here and demand your attention, allow enough time to Pondicherry so that you can enjoy all its offerings comfortably and go back refreshed and happy to have come here. The Best 15 Tourist Attractions in Pondicherry.
---
---
STAFF'S PICKS &
Related Posts