Looking for North India Heritage Tour by Luxury Car ?
Posted On December 20th, 2019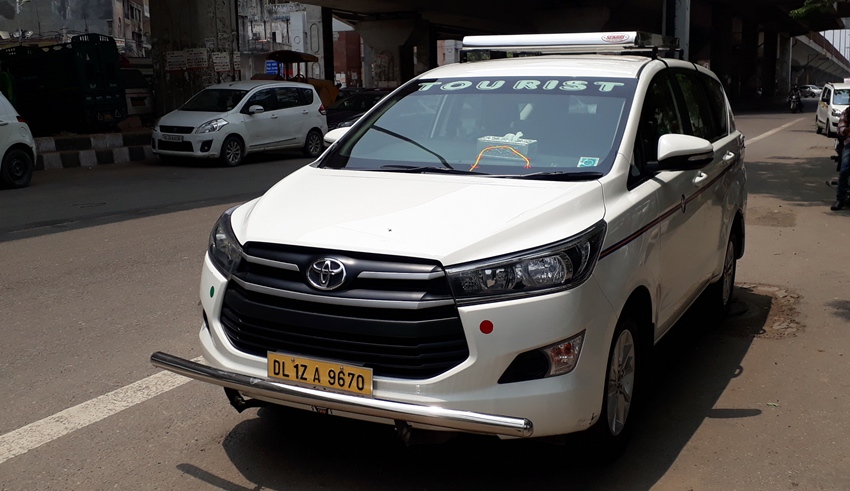 Looking for North India Heritage Tour by Luxury Car ?
North India is blessed with some of the finest and most intricately carved temples dating back many centuries, apart from pleasant weather throughout the year. The combination of these factors makes for an ideal holiday for your small family of four or five. Combine with a drive in a luxury vehicle and your enjoyment will be doubled. Your vehicle will glide over smooth roads and take you to your destination faster in great style. You can enjoy North India Heritage Tour very much when you're seated in a Toyota Innova Crysta. So, book a tour in this vehicle today.
North India Heritage Tour
North India is so beautiful and its roads are so smooth and well-maintained that people say if you haven't been to this part of the world. So, take advantage of the tours available to North India and head there to take a heritage tour.
Features of your vehicle
5-Seater Vehicle, including a seat for the driver
Large boot
Air-conditioner and heater
Power lock; anti-lock breaking system
Fog lamps
FM music system
GPS navigation system
Hill hold control
Vehicle Stability control
We present here a typical Heritage Tour by Luxury Vehicle in North India. This will give you an idea of the places visited and the duration. Of course, you can always increase or decrease the duration depending on the amount of time you wants to spend holidaying. This one is special and different because it also combines a visit to a wildlife sanctuary in the same region. Here goes:
Duration: 9nights/10days
Destinations to visit: Delhi – Haridwar – Rishikesh – Jaipur – Agra – Delhi
Your tour begins when you're picked up by the tour operator from the airport or railway station and transferred to a hotel. Rest and relax in this hotel and stay overnight here. Next morning, after breakfast, get set for a whole day of sightseeing in Delhi. The Jama Masjid, Red Fort, Qutub Minar, Chandni Chowk and many more interesting and historic sites. Stay overnight at the hotel. The next day after breakfast drive down in your Toyota Innova Crysta to Haridwar and check into a hotel. Haridwar is regarded as one of the seven holiest places  to Hindus. Haridwar is said to be one of the four sites where drops of Amrit, the potion of immortality, accidentally fell out from the container while it was borne by the heavenly bird, Garuda. In the evening, witness and participate in the Ganga Arti at Har Ki Pauri. Stay overnight at the hotel.
Your first stop today is to see the sacred ghat, HarkiPauri. After this, return to the hotel, check out and drive onward to Rishikesh. Check into the resort here and stay here. Next morning, after breakfast, you can do whatever you wish as it is a day free for you to explore Rishikesh as you wish. Return to the resort and stay here overnight. Next morning while breakfast done drive back to Delhi and check into a hotel. You have the evening free for yourself. Stay overnight at the hotel.
After breakfast, on Day 07, drive down to Jaipur and check into a hotel there. You have the rest of today to do as you wish in Jaipur. After dinner, stay overnight at the hotel. The Next morning while breakfast done, proceed straight to Amber Fort, about 11 km from Jaipur. Proceed to lunch and see the City Palace, the astronomical observatory, JantarMantar, HawaMahal and the exquisitely designed 953 pink sandstone windows called 'jharokhas'. Enjoy a typical Rajasthani dinner and stay overnight at the hotel.
On Day 09, drive from Jaipur to Agra and en route stop at FatehpurSikhri, founded by the Mughal Emperor Akbar. FatehpurSikhri is entirely created out of the locally available red sandstone in the Indo-Islamic style of architecture. Proceed to Agra and check into a hotel there. In the evening, visit the world famous TajMahal. Have dinner where you wish and stay overnight at the hotel.
Next morning, after breakfast, visit the historic sights of Agra such as Agra Fort and Sikandra and proceed to Delhi. At Delhi, transfer to a hotel for an overnight stay or get dropped at the railway station or airport for your return journey home.
With this, your beautiful North India Heritage Tour ends.
A wonderful tour like this one can easily be arranged by an experienced and thoughtful tour operator. One that comes to mind is Japji travel which has been in the travel business for many years. During this period, we have served many discerning customers over and over again. It has been possible due to the perfect work—each time we have managed to customize the trip according to the customers' specifications. We also go the extra mile by adding thoughtful touches to the program so that travellers enjoy their North India Heritage Trip some more.
If you too feel that you would like to embark on a journey like this one in luxury, speak to tempotravellerhire.in today. We will not only plan your personalized trip but will also make any other arrangements that you ask for. And if you book early with us, we will give you a very significant discount—one that will leave you gaping!! To know more about our plans and other travel details click us instantly.
---
---
STAFF'S PICKS &
Related Posts