Things To Do on A Honeymoon Trip to Shimla and Manali
Posted On May 24th, 2023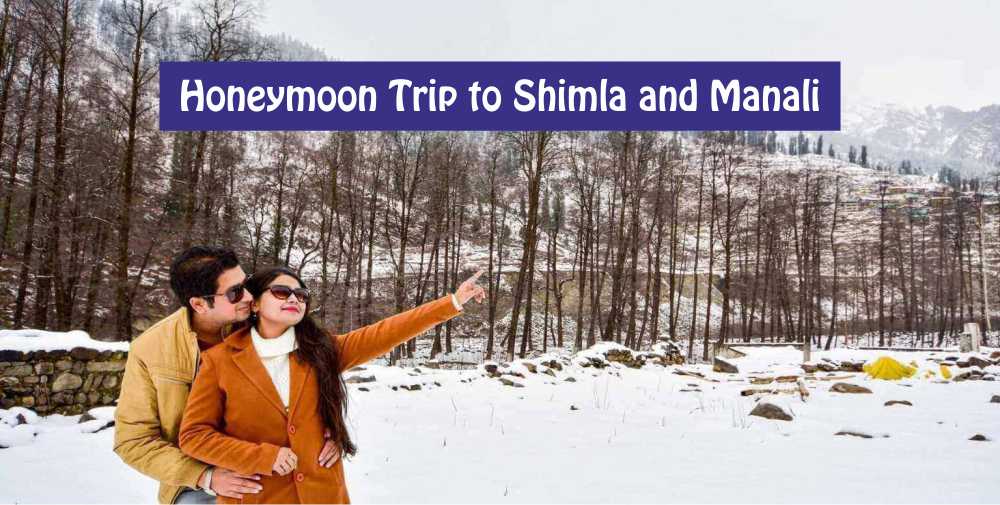 A honeymoon is not just about exploring places, and it's more about celebrating with a partner. After marriage, everyone looks for a place where they can hang up and relax. Nothing could be the best place than Manali & Shimla which is in Himachal Pradesh. Whether it's winter or summer Himachal Pradesh is always the best honeymoon destination for newly wedding couples. Hills & Chilled weather gives you a reason to fall in love with your partner and the atmosphere.
In this section, we will give your brief information about Honeymoon destinations Manali & Shimla and about Things To Do on A Honeymoon Trip to Shimla and Manali to make your honeymoon comfortable and enjoyable. 
What activities can couples do on a Manali Honeymoon Trip?
Following is the list to do Things To Do on A Honeymoon Trip to Shimla and Manali:
Indulge In a Hot Spring Bath
Play in the snow at Rohtang Pass
Visit the Hadimba Temple
Romance with some adventure activities (Mountaineering, Rock climbing, Rappelling, and Zorbing.)
Life in the Lush Green Meadows of Solang
Enjoy Water activities (rafting, canyoning, water-rock climbing, and snorkelling) 
Stroll on Mall Road
Spend Time at Pandoh Dam
Find peace in Monastery 
Travel to Naggar and Dine in a Castle
Fly away together (paragliding)
Make the most of the snow
Track your way up the hills in Manali 
What activities can couples do on a Shimla Honeymoon Trip?
Get relax and pamper yourself in Luxurious Hotel
Give yourself over to the splendour of nature
Visit with your partner at Shimla ridge
Indulge yourself in many different adventure sports activities like cycling, paragliding, trekking, and camping.
Visit Naldehra
Can make your trip memorable camping experience
Enjoy rafting experience
Quench your thirst for shopping in Lakkar Bazaar
Explore the beauty of the flora and fauna in the forest while going cycling through the forest
Visit Kufri
Best 10 couple visiting places in Manali & Shimla
| | | | | |
| --- | --- | --- | --- | --- |
| S.No | Visiting Places | Reason of couple visit | Open/Close Day | Distance from Delhi |
| 1 | Hadima Temple | The Newlywed couples visits there to take blessings | 24/7 | 525km |
| 2 | Naldehra | Scenic town in Shimla, it's a golf course area, and couples like to walk, spend their time | 24/7 | 371km |
| 3 | Jogini Falls | Jogini Falls is located in Vashist, Manali, and best tourist attraction place. | 24/7 | 527km |
| 4 | Manali Wildlife Sanctuary | Located in Circuit House Marg, Manali. This is the most romantic place and connects you with wildlife | 9-6pm | 526km |
| 5 | Jakhoo Hill | The highest point in Shimla, the couple visit there to spend some peaceful time | 24/7 | 349km |
| 6 | Chadwick Waterfall | Its height waterfall in Shimla is approx.86m. you will relax after a long travel | 24/7 | 347km |
| 7 | The Ridge of Shimla | Every summer highly significant festival is held in Shimla or in winter this place is popular for tourist activities | 24/7 | 348km |
| 8 | Rohtang Pass | Rohtang Pass in Manali is popular for snow activities | Recommended For day tour | 558km |
| 9 | Kullu | Your honeymoon can't be complete without visiting Manali. There couple can do night camping and get a high dose of adventure | 24/7 | 486km |
| 10 | Mashobra | This is the natural beauty of a small town in Shimla, dominated by misty hills, towering trees, and oak. | 24/7 | 358km |
The Final thought
The Honeymoon package for both the places Manali and Shimla is the same Rs.31,500 including accommodation for 6 nights & 7 days. To make your trip comfortable, enjoyable, and memorable, hire a tempo traveler so that you can spend your trip comfortably with your partner. Tempo Traveler provides their experienced staff with you so that you will easily find tourist places and save time to explore more on your honeymoon trip.
No one likes to drive 500km from Delhi to Shimla or Manali especially if it's your honeymoon. Taking a driver with you will make your trip comfortable, experienced drivers can help you to explore more than Google instructions because they drive or visit these places daily. They also give exciting offers, so visit their website or you can directly contact them via email or phone call.
FAQ
What will be the charges for the honeymoon trip to Manali?
You can cover all tourist places in 4 to 5 days in Manali and that will cost you Rs.18000. In this honeymoon trip you can explore so many tourist places like Kullu and Manali. Manali is 532km away from Delhi so you can easily reach there in 12 hours.
What should be an average budget for a Shimla Honeymoon Trip?
You can cover all the Shimla tourist attractions within 3 to 4 days. That will cost you around Rs. 17,500 approx. including accommodation and travel fare.
---
---
STAFF'S PICKS &
Related Posts