Tempo traveller tour to Haridwar
Posted On February 8th, 2017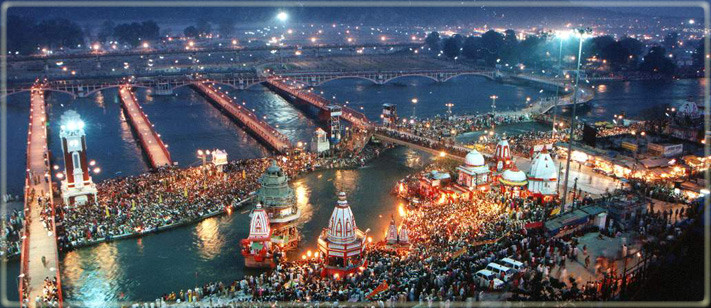 Tourism is the largest service industry around the globe and India is no different. Of the various niches of tourism sectors, what sees the highest footfall is religious tourism. Haridwar is considered to be one of the holiest places for the Hindu travellers and is a premium choice for the pilgrim travellers.
Seated along the bank of River Ganga, one can find the reference of Haridwar is Hindu and Buddhist scriptures. Apart from being one of the four spots for Kumbh Mela, Haridwar is the gateway to other holy destinations such as Badrinath, Kedarnath, Gangotri, and Yamunotri. The city has also been named as Kapilsthan, Mayapuri and Gangadwar but is most commonly known as Haridwar. Historically, Haridwar was built under the rule of the Maurya Empire (322–185 BCE). It has the traces of life and times of Gautam Buddha. Both, Shaivaites (those who pray to Lord Shiva) and Vaishnavites (devotees of Lord Vishnu) consider this place to be their holy land and Buddha Pournima is celebrated with great zeal and fervour.
Large number devotees take part in the tour to Haridwar during the festival time to experience the purest vibe of the place. Har Ki Pauri ghat in Haridwar is the most popular bank where devotees take holy dip in the Ganges on the occasion of Mauni Amavasya. Elaborate security arrangements are made by the government to maintain a smooth regulation of the influx of the devotees. Mauni Amavasya, also known as Maghi Amavasya, falls in the middle of Magha month. It is believed to be one of the most auspicious occasions for the Hindu faith holders and is believed that river Ganga turns into the nectar on Mauni Amavasya day. There is Kanwar Mela (religious fair as popular as Kumbh Mela) which is also attended by people from all across the country.
Planning a trip to Haridwar during Mahashivratri is also an interesting experience. A dip in the holy Ganga at Har ki Paudi on the said day is believed to wash away all the sins of the person.
There are plethora of temples dedicated to various Hindu gods and goddesses and temple hopping is a must-to-do activity. You can either book the tempo traveller for Haridwar, book a cable car or take a walk up to the hills to visit the temples. The Maya Devi temple or Chandi Devi temple on Neel Parvat are enchanting places to visit.
Keeping aside the spirituality, there are plenty of scope for the adventure tourists who can opt for river rafting, trekking or bird watching. The Rajaji National Park is one of the places to go where, if chanced upon, one can spot a tiger apart from the elephants.
Street food in Haridwar is yet another tempting reason to plan a holiday there!
The best time to visit this holy place is during the months of February and March or in August – October. Given the popularity of the place, it is wise to book your accommodation before reaching.
---
---
STAFF'S PICKS &
Related Posts