Offbeat Getaway Destinations Near Delhi
Posted On September 22nd, 2020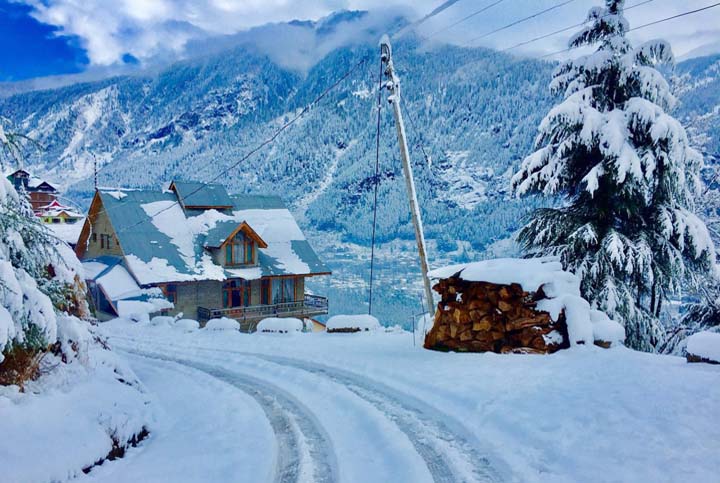 Weekends are the times when you take some time off from the daily hum-drum routine to enjoy with your family and friends. Certainly, the best way to make the most of your weekends is to drive off to a beautiful destination and spend a rejuvenating weekend with your kinsfolk and pals. So, if you are also planning a fascinating road trip for this weekend, here are few offbeat getaway destinations near Delhi.
1) Pangot, Uttarakhand
Also called the land of clouds, Pangot is a tiny, charming, and peaceful hill town near the Nainital district of Uttaranchal. It is a paradise for nature lovers. The forests of Cheena Peak Range surround Pangot nestling over 580 remarkable species of birds. People from distant corners visit Pangot to watch exceptional varieties of birds. Moreover, Pangot offers the perfect ambiance for long relaxing saunters along the Guano Hills. Spot rare bird species as you take a leisurely walk through the lanes of this paradise hill town. You can easily reach Pangot by road via the NH9. 
2) Darang, Himachal Pradesh
Darang is a mesmerizing hamlet of fascinating tea estates. Situated near Mcleodganj, Darang is a perfect place to witness sprawling tea estates snuggled amidst the upper Dhauladhar Himalayan ranges. Witness the majestic Dhauladhars surrounding the delightful hamlet. Darang is also a congenial spot for adventure seekers. How about enjoying a trekking expedition through the enormously spread estates and tea plantations? Walk beside the mountain streams. Saunter through the forests of mighty Deodars and beautiful Pines. Situated 434km from Delhi, Darang is well connected by road via the NH44. You can easily book a rental car or self-drive vehicle to reach Darang at your own pace. The route to Darang is equally mesmerizing. So, do not hesitate to take random halts and click memorable pictures.
3) Bilaspur, Himachal Pradesh
Bilaspur is one of the best-planned hill stations in India. Also, it is amongst the top most-adventurous monsoon getaway destinations near Delhi. The Gobind Sagar Lake in Bilaspur is made artificially on the Sutlej River to entice tourists and adventure seekers. Here, you can not only rejuvenate with your family and friends but can also participate in activities like fishing and water sports. The Gobind Sagar Lake looks spellbinding during the rains. Its lush green surroundings provide a perfect backdrop for unwinding and adventurous activities. Bilaspur is located at 396 km from Delhi, close to Parwanoo, Chandigarh, and Mandi. You can easily reach this beautiful hill town via NH44 and NH 205.
4) Fagu, Himachal Pradesh
If your idea of a perfect holiday is to spend some quaint time with family and friends, then the tiny enchanting hill resort of Fagu is an ideal gateway location. Fagu is a small village in Himachal Pradesh located 22 km away from Shimla. Surrounded by snow-covered Himalayan ranges and swaying green fields, Fagu is a wanderer's delight. You can spot flower fields and apple orchards in the deep valleys of Fagu. The deciduous forests of this tiny village get their best charm during July and November. You can reach Fagu by road via NH44 and NH 5.
5) Kausani, Uttarakhand
Known as the Switzerland of India, Kausani is a mesmerizing hill-station located in Almora. Here you can capture breathtaking panoramic views of distant mighty Himalayan mountain ranges. The snow-capped peaks of Nanda Devi, Panchchuli, Nandakot, Nanda Gunti, Trishul, and Chaukhamba are extremely spellbinding. If you want to experience the best of this small hill station, you should plan a visit from October to December when the climate is pleasant. Explore the rustic charm of Kausani with a weekend road trip from Delhi via the NH 9. 
6) Chakrata, Uttarakhand
Chakrata is indeed a living paradise for nature lovers. This lesser-known hill station is located 98 km from Dehradun. If you want to enjoy a peaceful stay with your family and friends amidst serene vistas and virgin forests, then Chakrata offers the perfect backdrop for memorable holidays. Enjoy the peace of nature surrounded by majestic mountains and magnificent waterfalls. Trek through the forests in a pollution-free atmosphere. You can easily reach Chakrata from Delhi by road via the NH 44.
7) Shoghi, Himachal Pradesh
Shoghi is best known for its tranquil atmosphere and breathtaking vistas. It is a heavenly hill station surrounded by rhododendrons and oaks, located 13 km from Shimla. Escape the conundrum of your daily routine and enjoy a peaceful stay amidst pristine natural surroundings. Enjoy the rustic charm of Shoghi and indulge in activities like trekking, bird watching, and camping with your kinsfolk and friends. You can reach Shoghi from Delhi by road via the NH 44 or NH 5.
Road Trip Packages from Rental Tempo Travellers
If you are willing to plan a road trip this weekend to any of these locations, you can book a ride with Rental Tempo Travellers. We provide budget-friendly tours and road trip packages to make the best of your holidays. Contact our tour operators for bespoke tour packages. Book a comfortable rental ride for a worry-free commute and memorable travel experience.
FAQs
Q1) What is the best option to travel to Shoghi?
Ans. The best mode of travel to Shoghi is by a private car and driver. You can book our budget-friendly road trip packages to get a comfortable rental ride to Shoghi. 
Q2) Can I cover more than one hill station in a road trip package?
Ans. Yes. We provide exclusive bespoke tour packages designed for the specific needs of our customers. Contact our tour operators with your budget and travel preferences to plan a road trip covering more than one hill station.
Q3) Do these hill stations have mobile network coverage?
Ans. Yes. The connection may fluctuate due to weather conditions, but all these hill stations have proper network installation.
---
---
STAFF'S PICKS &
Related Posts