Hidimba Devi Temple – The holy destination of Himachal
Posted On June 3rd, 2017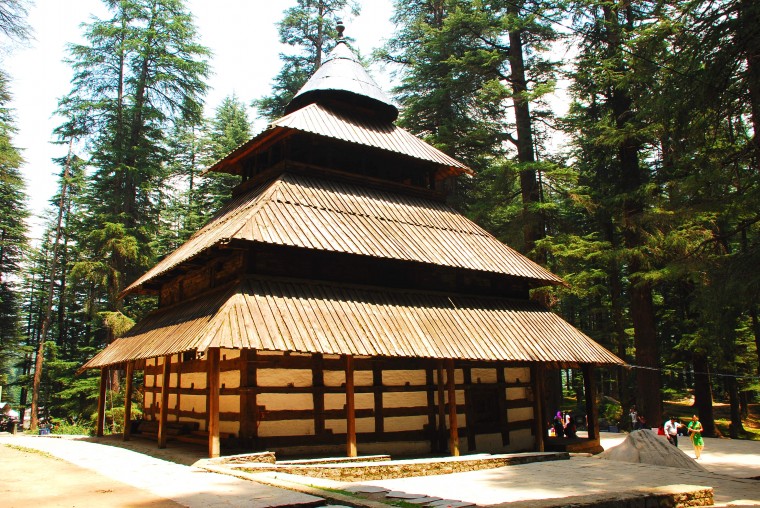 A very mesmerizing hill station Manali is not only famous for its beautiful view, but also for the famous Hidimba Devi temple. It is the most popular tourist spot in Manali. The temple is built around the cave where the Devi performed meditation and was erected in 1553.The roof of the temple is conical in shape with metal cladding. Far away from hustle and bustle of life, it is surrounded by towering deodar trees. This temple is located in middle of the forest it is having four wooden stories and the front door is carved with colorful figures and symbols. People come in large numbers to visit this temple they not only come for praying but also for seeing the beauty of this temple as it is having the unique interior, as well as the mud walls, are covered with stone work. The king who ordered to build this temple was so awestruck by the beauty of the temple that he wished that no one could construct a huge masterpiece like this. For this, he made an order to cut the artists right hand.
The rituals and rites of this temple are completely different from all other Hindu temples. According to locals to honor the goddess animal sacrifices are still being practiced here as people believe that these sacrifices will help in pleasing the goddess and she will bless them with peace and strength. It is dedicated to Bhim's wife. Bhim is among one of the five Pandavas brothers in the Indian Mahabharata. He could marry Hidimba only after killing her brother Hidimba. After getting married they had a son ghatotkach. Her son took over the country after Hidimba retired. He was a good administrator and become a great warrior.
Locals and saints told that she left the place and became very much spiritual. Later on, she was blessed with some supernatural powers and turned into a goddess. Then the people who were her followers later erected the temple in her respect. Inside the temple there is no idol, there is only a large imprint of the footprint on the black stone that is considered to be of Hidimba and the goddess is to be worshipped in this form. The people of that region celebrate a festival there which is known as a dhungrii festival or dhungri mela. It is celebrated every year in May as the celebration of Goddess Hidamba's birthday. On this day local artists perform Kullu Natti folk dance. This festival is celebrated for three days. Traditional music is being played. As a part of the event, surrounding villagers bring their individual god and goddesses. They come dressed and are carried in by the villagers who worship them. The environment of this festival is like a carnival, with colorful audience amusement rides and food vendors.
---
---
STAFF'S PICKS &
Related Posts