Summer Camping Spots Near Delhi
Posted On May 31st, 2023
9 Camping Recreational Areas Near Delhi You Should Visit This Summer
Away from the city's rush and bustle, staring at the sky, sitting by the bonfire with friends or loved ones, and chewing on those barbequed goodies has its own allure. Try camping if you want to get away from your daily routine. It will not only be a nice respite from everyday life, but it will also be a stress-relieving event. There are various camping areas near Delhi, some of which are listed here.
Uttarakhand's Best Camping Locations
If you're feeling a little more daring and don't mind leaving the city behind, here are some more possibilities for adventure camping in Uttarakhand. These locations can bring you closer to nature and provide a more enjoyable camping experience.
1.} Rishikesh Beach Adventure Camp
Rishikesh's River Ganga banks are one of the best camping spots near Delhi. You can participate in adventure sports such as kayaking and rafting amid the river's furious rapids. At night, you can gaze at the stars and enjoy the bonfire. It gets quite cold at night, so make sure you're dressed appropriately.
Delhi To Rishikesh- 260 km from Delhi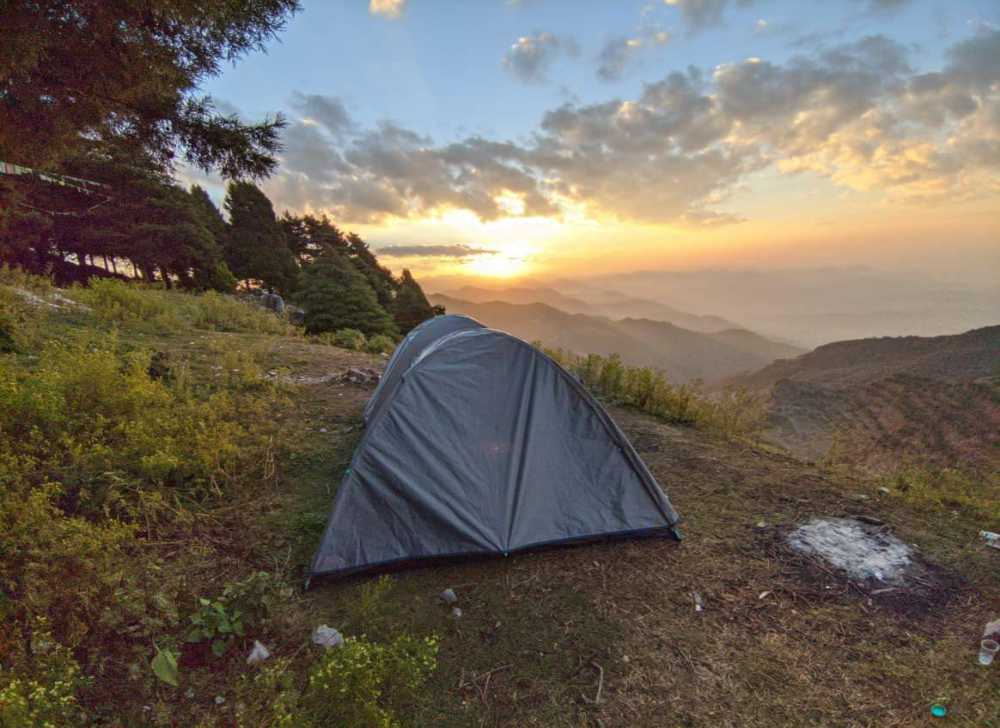 2.} Mussoorie Mountain Camping
If you are searching for a nice camping experience, Mussoorie, often known as the Queen of Hills, might be your weekend getaway from Delhi. Valley crossing, rafting, and trekking are popular activities, and a bonfire night and music add to the fantastic weather.
Delhi To Mussorie- 295 km from Delhi
3.} Binsar near Almora.
Views of Kedarnath, Nanda Devi, and Panchachuli are must-sees, in addition to forest camping, riverbank hikes, rappelling, and sanctuary excursions. There are also oak trees and more than 200 species of native flora and animals can be found there.
Delhi To Almora- 380 km from Delhi
4.} Kanatal, close to Dhanaulti
While all of the camping amenities are provided, the Tarzan swings, Mowgli walks, rock climbing, rappelling, valley crossing, and commando crawls provide a truly unique experience. Trek to the Surkhanda Devi shrine or the Kaudia jungle.
Delhi To Dhanaulti- 317 km from Delhi
5.} Bageshwar Camping in Kausani
The Kausani hills, which resemble the beautiful Swiss Alps, are one of the best spots to go camping near Delhi. This has long been a favourite of campers and attracts a large number of tourists.
Delhi To Kausani – 440 km from Delhi
6.} Mukteshwar, Nainital Camping Mukteshwar, Nainital
Mukteshwar's splendour is beyond description. Aside from the regular camping fun and activities, you can also attend forestry workshops.
Delhi To Nainital – 344 km from Delhi
7.} Nag Tibba Trek Camping, Dehradun
After an 85-kilometer drive, you must trek for four kilometres to reach the base camp. After walking to Nag Tibba temple, Serpent's Peak, and through the forests and meadows, you can spend the rest of the night in the camp or around the bonfire with some excellent cuisine.
Delhi To Dehradun- 365 km from Delhi
8.} Uttarakhand, Lansdowne
Lansdowne is well-known and respected for its beautiful weather all year. Camping in such conditions, on the other hand, provides an entirely other experience. Lansdowne will be memorable whether you are with company or travelling alone.
Delhi To Uttarakhand- 240 km from Delhi
9.} Jim Corbett, Siyat, and Camp Kyari
Camping in Camp Kyari is unlike any other choice on this site because it is located in the thick woods of Jim Corbett. You can also go mountain biking, paragliding, and following nature routes.
Delhi to Kyari- 264 km from Delhi
The Final Point
Camping can be an excellent opportunity to discover new areas and reconnect with yourself. You will be able to decrease stress and make lovely memories in the company of nature. So, this weekend, go anywhere with your family or friends and book a self-drive automobile from Tempotraveller to make your journey stress-free.
---
---
STAFF'S PICKS &
Related Posts